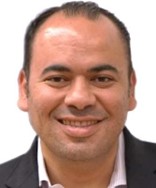 Dr. Ahmed is a highly accomplished professional with a diverse retail sales, business development, education, and consultancy background. He has significantly contributed to the FMCG sector and holds critical leadership positions in various organizations. With a solid academic foundation and extensive industry experience, Dr. Ahmed has established himself as a respected marketing, management, and strategic planning expert.
Starting his career as a sales executive in the FMCG sector, Dr. Ahmed quickly progressed to roles such as sales supervisor and Business Development Manager, representing renowned companies including Nestle, Savola, Johnson Wax, Hero, El-Rashidy, Covertina, Lava, and Caltex. Currently, he serves as the Vice-President of FMCG Qebaa, a leading distributor in the Egyptian market, which witnessed remarkable sales growth from 2 billion Egyptian Pounds in 2019 to 4 billion Egyptian Pounds in 2021.
In addition to his corporate engagements, Dr. Ahmed is an esteemed adjunct professor of Marketing and Management at prestigious institutions such as the AUC and AASTMT, among others. His teaching portfolio covers various programs and courses, encompassing marketing, management strategies, supply chain, and interpersonal skills development. Notably, Dr. Ahmed specializes in simulation-based classes that offer practical insights. He imparts knowledge on topics like Marketing, Business Strategies, Digital Marketing, and Supply Chain Management.
Dr. Ahmed holds the position of CEO and Founder at Inspire Integrated Solutions, a distinguished management training and consultancy company. The primary goal of Inspire is to provide clients with unique and distinctive solutions, particularly in the realm of human capital development. The company has proudly served prestigious clients in the region, including El Araby Group, National Bank of Egypt, Abdellatif Jamil, Jabal Omar, El Bank El Awel, El Zamil, Enaya, Baashan, Dakahliya Group, Pharco, Parkville, Elfayoumi, Schneider, It works, UN, WFP, Najm, BD, Emirates national bank of Dubai, Emirates NBD bank, Saudi German hospitals, Titan Cement Egypt, Maersk Saudi, BTECH, Netsync, Lecico Egypt, TAQA Gas, Rameda pharmaceuticals, Elsewedy electric, Nestlè, Vodafone Egypt, Nile University, Abu Dhabi Islamic Bank, ALJ GRP, Philips, Schindler Egypt, Auxilio pharma group, royal pharma, Ideal Standard International, Saudi Telecom Company 'stc', Starkey Hearing UAE, Unilever, and others.
As a consultant, Dr. Ahmed has provided valuable guidance to numerous companies across the region, assisting them in navigating various phases of strategic changes. He is an Accredited Trainer from the European Logistics Association (ELA)
Dr. Ahmed is Dattner Consulting's managing director of the Middle East, the scope of operations includes Saudi Arabia, United Arab Emirates, Qatar, Kuwait, Oman, Bahrain, Lebanon, Jordan & Egypt in different services. Services such as Executive Coaching, Talent Assessment, Performance management, team building, and Organizational change.
Dr. Ahmed's educational journey includes a B.Sc. in Business Administration obtained in 2001, an MBA in Marketing earned in 2004, and a Doctorate Degree in Business Administration with Honors conferred in 2013. His doctoral research focused on developing a new theory in leadership known as "Revolving Leadership."